Kevin Fischer is a veteran broadcaster, the recipient of over 150 major journalism awards from the Milwaukee Press Club, the Wisconsin Associated Press, the Northwest Broadcast News Association, the Wisconsin Bar Association, and others. He has been seen and heard on Milwaukee TV and radio stations for over three decades. A longtime aide to state Senate Republicans in the Wisconsin Legislature, Kevin can be seen offering his views on the news on the public affairs program, "InterCHANGE," on Milwaukee Public Television Channel 10, and heard filling in on Newstalk 1130 WISN. He lives with his wife, Jennifer, and their lovely young daughter, Kyla Audrey, in Franklin.




Trick or Treat in our corner of the world was today from 4-7 pm.







That bag looks pretty empty but by the end of the bell-ringing will no doubt be quite full.

And you just know when those kids get home...




1) Nina Pham met with President Obama (and received a hug) at the White House on Friday, just hours after the Dallas nurse was released from the hospital where she was treated for Ebola. "She is cured of Ebola, let's get that clear," Dr. Anthony Fauci, infectious disease chief at the NIH, told reporters at a news conference as Pham left the hospital. Photo: SAUL LOEB / AFP - Getty Images


2) From left, New York City Mayor Bill de Blasio, wife Chirlane McCray, and New York City Health Commissioner Dr. Mary Bassett have a meal at The Meatball Shop in New York, Saturday, Oct. 25, 2014, where Dr. Craig Spencer, an Ebola patient, ate just before he became ill. Spencer remained in stable condition while isolated in a hospital, talking by cellphone to his family and assisting disease detectives who are accounting for his every movement since arriving in New York from Guinea via Europe on Oct. 17. (AP Photo/Craig Ruttle)


3) Lawmakers barricaded the door of their caucus room as shots were fired on Parliament Hill in Ottawa, Canada, on Wednesday. Conservative Party MP Nina Grewal captured this image of the protective measures. The shots in the halls of Parliament followed the shooting of a soldier guarding the National War Memorial who was killed. Photo: Nina Grewal / Reuters


4) Supporters pay tribute as the body of Cpl. Nathan Cirillo is transported in a hearse from Ottawa to Hamilton, along the Highway of Heroes in Port Hope, Ont., on Friday. The road is designated the Highway of Heroes because it is often traveled by funeral convoys for fallen Canadian Forces personnel from a major military base in Trenton to the coroner's office in Toronto. The 25-year-old reservist was gunned down as he stood ceremonial guard at the National War Memorial in Ottawa on Wednesday. After killing Cirillo the gunman stormed the main parliament building, terrorizing the public and politicians, before being shot dead. Cirillo, who was part of the Argyll and Sutherland Highlanders Regiment, was remembered by relatives as a "wonderful young man." The gunman, who was also later shot dead, was identified as Michael Joseph Hall, 32, an Islam convert who used the name Michael Zehaf-Bibeau. Photo: Nathan Denette / The Canadian Press via AP


5) Amid the flags and flowers left outside of Cpl. Nathan Cirillo's family home in Hamilton, Ontario, two dogs peeked out from under the gate on Thursday. Cirillo, the army reservist who was shot dead as he stood guard at Canada's National War Memorial, was not only a soldier and a father, but an animal lover whose social media feeds were populated by images of his dogs. In a recent Instagram he described them as "my family," and would often post photos of their antics. Photo: The Canadian Press via the AP


6) Canada's Sergeant-at-Arms Kevin Vickers stands as he is applauded in the House of Commons in Ottawa on Thursday. Vicekers was hailed as a hero for shooting the gunman during an attack on the Parliament the day before. Photo: CHRIS WATTIE / Reuters The 58-year-old killed the suspect and then returned to guard lawmakers from possible other suspects, said Member of Parliament Paul Dewar.


7) Toy Lego characters depicting a scene of protesters confronting riot police are seen on a table outside the government headquarters in Hong Kong October 20, 2014. A deepening sense of impasse gripped Hong Kong on Monday as pro-democracy protests entered their fourth week, with the government having limited options to end the crisis and demonstrators increasingly willing to confront police. (REUTERS/Tyrone Siu)


8) Newlyweds celebrate their union with the Carolina Panthers vs Green Bay Packers at Lambeau Field in Green Bay, WI. The Packers defeated the Panthers 38-17 on Sunday, October 19, 2014. Photo: Jeff Siner, Charlotte Observer


9) Carolina Panthers quarterback Joe Webb (14) kneels in prayer at Lambeau Field in Green Bay, WI after loosening up on Sunday, October 19, 2014. Photo: Jeff Siner, Charlotte Observer


10) Carolina Panthers cornerback Antoine Cason (20) is unable to disrupt Green Bay Packers wide receiver Jordy Nelson (87) from catching a touchdown pass during first quarter action at Lambeau Field in Green Bay, WI. The Packers defeated the Panthers 38-17 on Sunday, October 19, 2014. Photo: Jeff Siner, Charlotte Observer


11) Carolina Panthers linebacker Luke Kuechly (59) is attended to by Back Judge Steve Freeman (133) following a play during third quarter action vs the Green Bay Packers at Lambeau Field in Green Bay, WI. Kuechly would be penalized on the play and disqualified from the game. The Packers defeated the Panthers 38-17 on Sunday, October 19, 2014. Photo: Jeff Siner, Charlotte Observer


12) Cheerleaders perform during the second half of an NFL football game between the Green Bay Packers and the Carolina Panthers Sunday, Oct. 19, 2014, in Green Bay, Wis. (AP Photo/Mike Roemer)


13) The Denver Broncos cheerleaders wear "509" t-shirts after Peyton Manning threw his 509th career touchdown pass during the first half of an NFL football game against the San Francisco 49ers , Sunday, Oct. 19, 2014, in Denver. (AP Photo/Jack Dempsey)


14) Wisconsin Badgers running back Melvin Gordon (25) celebrates his first quarter 6-yard touchdown run in a game against the Maryland Terrapins at Camp Randall Stadium in Madison, Wis., Saturday, Oct. 25, 2014. Photo: M.P. KING, WI State Journal


15) Wisconsin Badgers tight end Austin Traylor (46) jumps on teammate Sam Arneson (49) in celebration of Arneson's third quarter touchdown catch in a game against the Maryland Terrapins at Camp Randall Stadium in Madison, Wis., Saturday, Oct. 25, 2014. The Badgers rolled, 52-7. Photo: M.P. KING -- WI State Journal


16) It's a photo that captures two worlds colliding. Just a few yards from the edge of a lush fairway where two women are playing a leisurely round of golf, a police officer scales a fence to try to stop a group of migrants intent on claiming asylum in the European Union: Photo: JOSE PALAZON OSMA / Prodein via AFP - Getty Images


17) The "Sculpture by the Sea" free outdoor exhibition in Sydney, now in its 18th year, stretches for more than a mile along the coastline between Sydney's famous Bondi and Tamarama beaches. Artists from 16 countries are participating in the exhibition which will run from Oct. 23 until Nov 9. A girl walks on the handle of a 79 foot frying pan by Australian artist Andrew Hankin at Tamarama beach on Oct. 23. The sculpture is called "we're fryin'out here." Photo: Dean Lewins / EPA


18) David Nickerson, 24, rides a wave dressed as Mrs Doubtfire during the 7th annual ZJ Boarding House Haunted Heats Halloween surf contest in Santa Monica, California October 25, 2014. (REUTERS/Lucy Nicholson)


19) Students from St Andrews University are covered in foam as they take part in the traditional 'Raisin Weekend' in the Lower College Lawn, at St Andrews in Scotland October 20, 2014. The weekend, which begins on Sunday, involves rituals for new students, culminating in a foam fight on Monday morning. (REUTERS/Russell Cheyne)


20) A competitor shows her tattoos at the MBK Tattoo Contest in a shopping mall in Bangkok October 23, 2014. (REUTERS/Athit Perawongmetha)


21) A group of men costumed as pregnant cheerleaders parade down Fleming Street during the Fantasy Fest Masquerade March in Key West, Florida, in this October 24, 2014 handout picture provided by Florida Keys News Bureau. Thousands of participants strolled in one of the highlight events of the 10-day Fantasy Fest masking and costuming festival that concludes October 26. (REUTERS/Andy Newman/Florida Keys News Bureau)


22) A streaker runs across the pitch as a security guard prepares to tackle him during the Asian Champions League final first-leg soccer match between Australia's Western Sydney Wanderers and Saudi Arabia's Al Hilal at Parramatta Stadium in Sydney October 25, 2014. (REUTERS/Jason Reed)
Here are interesting articles from the past week that are worth a read (even if, on occasion, I do not agree with the author).


The nastiest political tactic this year

The early-morning paramilitary-style raids on citizens' homes were conducted by law enforcement officers, sometimes wearing bulletproof vests and lugging battering rams, pounding on doors and issuing threats. Spouses were separated as the police seized computers, including those of children still in pajamas. Clothes drawers, including the children's, were ransacked, cellphones were confiscated and the citizens were told that it would be a crime to tell anyone of the raids.


The poll tax that wasn't
Is voting so important that it shouldn't be tethered to an ID requirement? That's not how we treat other important rights, as Hans von Spakovsky of the Heritage Foundation notes. It takes an ID to buy a gun, a constitutional right. It takes an ID to get a marriage license or check into a hotel. No one goes around complaining that these requirements infringe on the rights of minorities to own a firearm, get married, or avail themselves of public accommodations.
Public supports sensible ID laws

Is it too much to ask any plaintiff challenging a voter ID law to prove irreparable harm?


Everything Millennials Need To Know About Politics And Economics in 25 Quotes
1) No one will really understand politics until they understand that politicians are not trying to solve our problems. They are trying to solve their own problems — of which getting elected and re-elected are number one and number two. Whatever is number three is far behind. — Thomas Sowell


Revealed Autopsy Destroys 'Gentle Giant' Michael Brown 'Hands Up, Don't Shoot' Story
Proponents of prosecuting Officer Darren Wilson of the Ferguson Police Department over his shooting of Brown have claimed that Wilson shot Brown while he was running away, his hands up. In actuality, the autopsy report suggests that Brown did indeed attempt to take Wilson's gun, that Wilson shot him in the hand over it, and that Brown charged Wilson with his hands down.


A 1970s Halloween
Not until it got dark!
That was the trick-or-treating rule my mother set down every year. She didn't want me to embarrass her by interrupting families still having dinner.
I hated the rule. Tommy Gillen and I had big plans to hit as many houses as possible before we had to come home.
It was the 1970s, after all. Schools weren't yet banning Halloween treats and activities. There was no kid obesity epidemic. There weren't many modern sensitivities at all.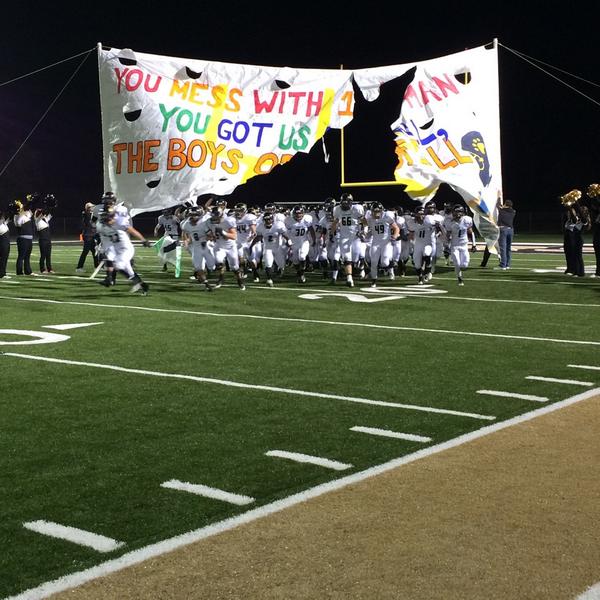 Next Friday, Franklin plays Oak Creek at Oak Creek at 7:00.

REVENGE!