Kevin Fischer is a veteran broadcaster, the recipient of over 150 major journalism awards from the Milwaukee Press Club, the Wisconsin Associated Press, the Northwest Broadcast News Association, the Wisconsin Bar Association, and others. He has been seen and heard on Milwaukee TV and radio stations for over three decades. A longtime aide to state Senate Republicans in the Wisconsin Legislature, Kevin can be seen offering his views on the news on the public affairs program, "InterCHANGE," on Milwaukee Public Television Channel 10, and heard filling in on Newstalk 1130 WISN. He lives with his wife, Jennifer, and their lovely baby daughter, Kyla Audrey, in Franklin.

By Jennifer Fischer
Mother of beautiful angel, Kyla






Like fellow FranklinNOW blogger Debbie Maley, I enjoy walking down memory lane about our dear sweet Kyla. Mark and Debbie have been blessed a few months longer with Kobi than we have with our daughter, but so many things in her recent blog had me smiling and shaking my head in agreement.

Time has been going by so quickly in the life of our little angel. This week was a first for our family, as we went to the Franklin Public Library to enjoy a Summer Rhyme Time class with Kyla. With the silly songs, splashing in tubs filled with water, and making new friends, I'm not sure who enjoyed the morning more: Mommy & Daddy, or Baby. This will definitely be one of those precious memories like Debbie enjoys remembering.






I know that I have mentioned my firm belief in letting kids be kids and offering them every safe and fun opportunity to enjoy themselves. This summer reinforces those feelings on many occasions: as I play with Kyla outside, when Kevin & I take her for our nightly walks, and when she recently had her first popsicle. Watching the joy on her face means the world to us.

Do you remember when you heard the familiar tunes even before you saw the familiar vehicle?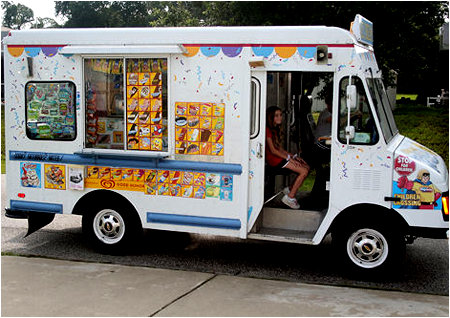 Do you remember the bracing cold as this hit your skin?






Do you remember whining that you weren't really hungry when it was time to come in for lunch and dinner and you had to get off of this?







Admittedly Kyla is not quite ready for those traditional summer treats. But when she is, you can be sure that I will let her enjoy all of them. Naturally she will need to eat nutritious food to keep her body strong. But she will know the pleasure of sticky hands from a dripping ice cream (uh, not frozen yogurt) cone… Of course we will have some structured activities like library time or a "fun" class. But her days will not be scheduled from sun-up to sun-down… And while safety will be a priority, we will not make her wear a bike helmet when she runs through the sprinkler in the back yard.

Childhood summers are so fleeting. Did you eat Eskimo Pies, Bomb Pops & Dreamsicles and escape malnutrition? Did you spend entire days riding your bike with friends and not become a juvenile delinquent? Did you swim and get pelted with a water balloon or water gun and not suffer debilitating injuries? If you survived June, July, and August and are alive to re-live the memories I think your kid(s) can too.
This site uses Facebook comments to make it easier for you to contribute. If you see a comment you would like to flag for spam or abuse, click the "x" in the upper right of it. By posting, you agree to our Terms of Use.