Kevin Fischer is a veteran broadcaster, the recipient of over 150 major journalism awards from the Milwaukee Press Club, the Wisconsin Associated Press, the Northwest Broadcast News Association, the Wisconsin Bar Association, and others. He has been seen and heard on Milwaukee TV and radio stations for over three decades. A longtime aide to state Senate Republicans in the Wisconsin Legislature, Kevin can be seen offering his views on the news on the public affairs program, "InterCHANGE," on Milwaukee Public Television Channel 10, and heard filling in on Newstalk 1130 WISN. He lives with his wife, Jennifer, and their lovely baby daughter, Kyla Audrey, in Franklin.

* DISCLAIMER: THIS BLOG DEALS WITH PRO WRESTLING AND ONE OF ITS FEMALE STARS. IT WILL HAVE PHOTOS OF THE YOUNG WOMAN. SHE IS NOT DRESSED LIKE A TYPICAL ELEMENTARY SCHOOL TEACHER. DO WE UNDERSTAND EACH OTHER? TRUST ME, IT IS ALL IN THE PROPER CONTEXT*

I've read where one of the first, if not the original of the World Wrestling Entertainment divas, Sunny will appear at Sunday's Wrestlemania.

I have to relate my story of my experience with Sunny.

My career has given me the great fortune of interviewing the gamut of individuals, and that includes pro wrestlers and the scantily clad women who escort them to the ring, once referred to as valets, now called, divas.

I just say VA-VA-VA-VOOM.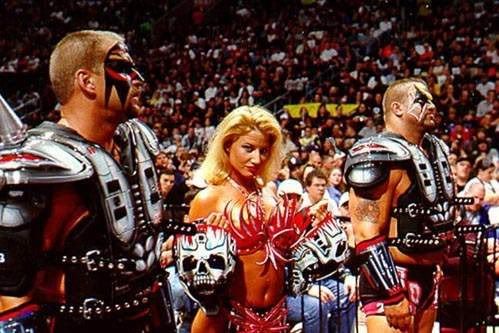 (A pause for yells and screams of sexism being directed at the computer. NOTE: Sunny was conservative compared to the gals in pro wrestling today)


During the mid-90's, when I was working in afternoon drive at WTMJ during Jonathan Green's "Greenhouse," the show's producer, my very good friend Jim Kaluzny had arranged for some of the wrestlers who were in town for a show to appear in studio for live interviews. One of them was Curt Henning, accompanied by Sunny.

I had the chance to speak to both off-air in the production studio adjacent to the on-air studio for quite some time. I'll never forget telling Curt Henning how much I enjoyed watching his father, the legendary Larry "The Axe" Henning wrestle while I was growing up. I knew Larry Henning's health wasn't the best so I inquired how he was doing. Curt said his dad was doing just fine, but he choked up while telling me, and then thanking me for asking.

I also remember Sunny being, well, all of 24-ish and perfect.

Word got around to the WTMJ newsroom that Curt Henning and the visually pleasing, sensational for television Sunny were in the house. Sports anchor Kevin Hunt came running down the hall into the WTMJ Radio studios, almost desperate. The TV side wanted video interview clips of the two for the 5:00, 6:00, and 10:00 news, but no one was available to actually do the interview. Could I do it?

So Curt Henning, Sunny and I walked down the hallway to a large meeting room with a TV photographer to do the interview. We all laughed and joked right up until the camera started rolling. That's when Henning and Sunny went into bad guy and bad girl mode. Knowing wrestling as I did and having been in just about every interview scenario possible, I played right along, even during a question to Sunny when Henning interrupted, shouting, "Don't be looking down! Look at her eyes!"

Sunny, it's nice to see you back!


UPDATE: WRESTLEMANIA RECAP/RESULTS

This site uses Facebook comments to make it easier for you to contribute. If you see a comment you would like to flag for spam or abuse, click the "x" in the upper right of it. By posting, you agree to our Terms of Use.