Kevin Fischer is a veteran broadcaster, the recipient of over 150 major journalism awards from the Milwaukee Press Club, the Wisconsin Associated Press, the Northwest Broadcast News Association, the Wisconsin Bar Association, and others. He has been seen and heard on Milwaukee TV and radio stations for over three decades. A longtime aide to state Senate Republicans in the Wisconsin Legislature, Kevin can be seen offering his views on the news on the public affairs program, "InterCHANGE," on Milwaukee Public Television Channel 10, and heard filling in on Newstalk 1130 WISN. He lives with his wife, Jennifer, and their lovely young daughter, Kyla Audrey, in Franklin.
Yes, I know, I'm tardy. And for a blog that's entitled, "This Just In…" that could be embarrassing.

Just bear with me.

Unlike the majority of Franklin residents, I actually enjoy reading the city of Franklin newsletter. I give it a good going over before I, unlike most, toss in the trash. With the two much younger ladies in my household, I need an occasional break, a chance to come up for air. The city newsletter is one such opportunity.

I never miss Franklin Superintendent Steve Patz's insert. It can never be accused of being scintillating reading. How could it? It's written for one of two groups:

1) Those at an elementary school reading level (Franklin schools are great. We work to make them great. That's what you want. Great schools. What you say is important. We have great schools).

2) Oh, please, FPS, please tax us more. We don't mind. Because it's for the children. How could you possibly be against the children?

But I always read. I wonder if the super reads my blogs religiously or if he waits till a minion bursts into his office to frantically shout about what I just wrote?

Patz's latest installment is the typical, obligatory, isn't it great to have the kids back in school piece. Depends who you ask, the kids or the parents.

There's nothing terribly wrong with Patz's welcoming message, and everyone knows how I hate to pick on the Superintendent. Let's just say I would have written the piece a bit differently. Here are some examples with what Patz wrote followed by my reaction.

"I want to welcome our staff, students and families as we begin another school year."
OK, kind of average. But a safe, standard open. An English teacher would have probably frowned a bit with a note at the bottom of the paper, "You could have done better on that lead sentence."

"The District had a busy summer, as progress continued on our construction projects at the high school (see the update on page 2), and countless numbers of staff hours were put into professional development, curriculum review and planning for the 2013-14 school year."

OK, Fischer, what's wrong with that, huh, what's wrong with that?

Again, nothing terrible. But I wouldn't have written it that way.

The district had a great summer. Why? The first thing out of the super's keyboard was the work on the tens of millions of dollars on building projects approved by voters. Then he mentions the "countless numbers of staff hours were put into professional development, curriculum review and planning for the 2013-14 school year." Oh, yeh, there was that whole academic thing, too.


I know the super wants to build us into property tax oblivion but I would have mentioned the stuff for the classrooms first. But that's just me.

And using the word "countless" is a horrible misrepresentation. Counting the hours would be simple. Countless suggest such a task would be impossible. Please.

"This fall, we will continue our commitment to continuously improve on what we can provide for our community and our students."

Patz note to myself: Next time, it should read "our students and our community," not the other way around.
"Each year, our staff and administration foster a renewed commitment to our growing District and create an innovative and personalized learning environment for our students."

OK, what in the world does that specifically mean?

Do you know what a platitude is? A platitude is a trite, dull, or obvious remark or statement; staleness or insipidity of thought or language.
That last sentence in red is a platitude.

Patz also wrote a piece in the newsletter about Boundary Adjustment Planning. The district wants you to believe that enrollment has exploded to the point that a consulting firm had to be hired to help find solutions. Cue the super:

"Currently, we are in the process of gathering data to support our decision making process as we move forward."
Now on the surface, that sentence, like all the other preceding platitudes sounds harmless.

During my full-time broadcast journalism career, I had the opportunity to interview William Lutz, the author of...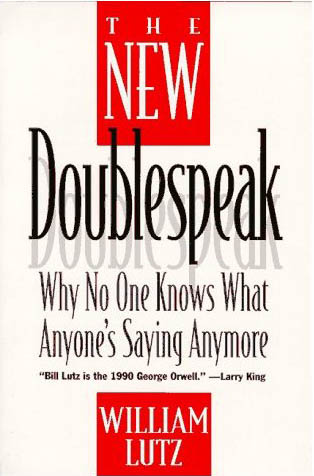 From Amazon.com:

"Doublespeak is language that is evasive, deceptive, self-contradictory, or misleading. It turns lies told by politicians into 'strategic misrepresentations' or 'reality augmentation,' and ordinary sewage sludge into 'regulated organic nutrients' that doesn't stink but merely 'exceeds the odor threshold.'
"In this pithy sequel to his bestselling Doublespeak, Lutz exposes the latest prevarications that permeate our public discourse, dissecting how they work, and showing how they affect us as individuals and as a nation. Most important, he shows how to demand clear communication, become critical consumers of language, and fight doublespeak in our homes, schools, workplaces, and the political arena."

The previous sentence in red written by Patz is Doublespeak.

What he means is that the district is furioulsy compiling data to build a case that even more spending (i.e. tax dollars) is needed to build even more.

I close with this. Earlier tonight I attended swim class for Kyla at Franklin High School. Normally I get in the water with Kyla. Tonight, Mommy went solo with our daughter as I sat on the sidelines. Next to me was the proud father of another little girl who cheered on his daughter. We got into a nice conversation about how wonderful the swim classes were. Kyla and his daughter were on their third classes.

My new friend said to me that if we're paying exorbitant amount of taxes just to live in Franklin, a mere $30 to use the high school swimming pool to teach our children so it might save their lives someday was well worth it. I agreed.

Driving in and driving out of Franklin High tonight it was hard not to notice the addition of more spots for cars.

Johnny who was a "D" student last year will more than likely be a "D" student again this year. But by golly, at least he'll have a place to park.

What do I know. I went to private schools.

PS: Seriously, I wonder which district employee is given the task of monitoring FranklinNOW and alerting his highness that he's the subject of a blog.
This site uses Facebook comments to make it easier for you to contribute. If you see a comment you would like to flag for spam or abuse, click the "x" in the upper right of it. By posting, you agree to our Terms of Use.